New Strategies. New Connections. New Future. - Apprenticeship and Workforce Summit on Nov 15th
41888 Motor Car Parkway, Temecula, CA 92591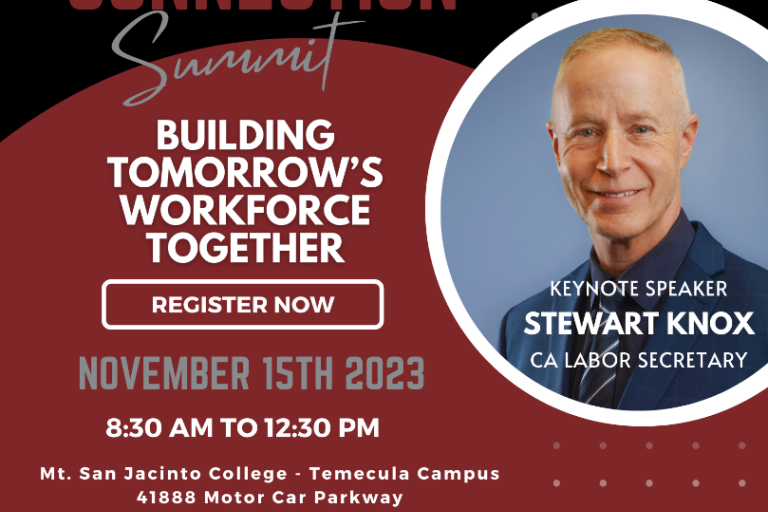 Event Details
Imagine a future where all industries thrive, communities prosper, and individuals flourish. At Mt. San Jacinto College, we believe in creating this future by fostering meaningful connections and empowering the workforce of tomorrow.
 That's why we are thrilled to invite you to The Apprenticeship Connection Summit, a groundbreaking event designed to bring together essential partners from across our region. Together, we will explore innovative strategies and forge lasting collaborations to expand apprenticeships for the industries of the future.
Join us on Wednesday, November 15th at 8:30 AM at the prestigious MSJC Temecula Valley Campus. Located at 41888 Motor Car Parkway, Temecula, CA, USA, this venue is the perfect backdrop for this momentous gathering.
Throughout the day, you'll engage in captivating discussions, hear inspiring success stories, and gain valuable insights from industry leaders. Our carefully curated sessions will delve into the power of apprenticeships to drive economic growth, enhance workforce development, and create a more inclusive society.
 But time is of the essence! The clock is ticking, and seats are limited. Don't miss out on this opportunity to connect with like-minded professionals, share your expertise, and make a lasting impact on the future of apprenticeships.
RSVP today to secure your spot at The Apprenticeship Connection Summit. Simply click here to register and be part of this transformative event.
Together, let's unlock the potential of apprenticeships and shape a brighter future for industries, communities, and individuals alike. Please feel free to share this exciting news with your networks.